Do you have a profile with us? Create your profile here to register for Congress.
CBV Congress 2022 is happening live in Vancouver June 6th & 7th!
Join us in person at the signature event of CBV Institute dedicated to leadership in business valuation. Get the latest thinking and insights to advance valuation expertise and confront new realities. Global registration is open to CBVs and Students, other valuation professionals, business leaders and interested professional associations and organizations. We are excited to see you again!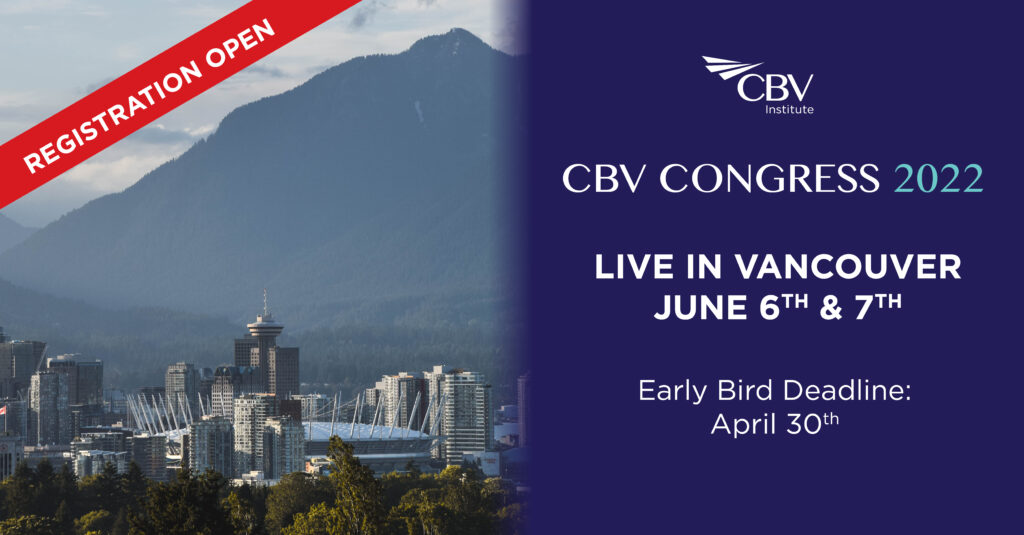 Featuring diverse topics, technical business valuation content and cutting edge thinking on trends which are impacting business and the valuation profession
Expert speakers, stimulating keynotes, engaging panel discussions and Q&A's
Network with peers and make new professional connections
Upskill, learn and ignite professional development, while earning CPD hours
Registration for Congress 2022 unlocks access to two days of informative, thought-provoking sessions. At the time of registration, there's added flexibility to choose from one of three sessions happening simultaneously in the subject area of most interest to you: Business Valuation, Litigation or Deals. Plus, get online video access post-Congress to any sessions that CBV Institute received authorization to record. All for one price!
Are you vaccinated? Congress attendees are required to be fully vaccinated in accordance with the Public Heath Agency of Canada's definition of full vaccination at the time of Congress.
REGISTER EARLY TO RESERVE YOUR PLACE
Regular pricing – $ 1,175 + BC tax (Includes online access to Congress presentations [post Congress], breakfast, lunch and coffee breaks each day of the Congress.)
Early Bird Registration Discount (register by May 6, 2022): $ 200
Payment can be made by Visa, MasterCard or Amex.
Cancellation Policy:
Before April 30, 2022 – 60% refund
After April 30, 2022 – no refund will be given however substitution of person to this congress will be permitted.
Refunds will not be applied to future conferences.
Select Your Sessions
My Congress Selections
To complete your registration, you must select the sessions you want to attend. You will automatically be enrolled in the session for time slots where there are no options. The deadline to make changes is May 10, 2022
Your session selection has been made and can be changed any time up until May 10, 2022.
AccoMmodation Information
Westin Bayshore Hotel Reservations
Two ways to book your hotel reservation
Call the Westin main reservation line at 1-800-937-8461 and ask for CICBVS group rate
The Westin Bayshore is almost sold out for June. We only have rooms left in our Congress room block for peak nights – Sunday June 5 & Monday June 6. Book your reservation in the Congress room block as soon as possible.
Group rate of $ 299 per night (Traditional/Deluxe Guest Room).
Deadline to book your hotel room at the group rate is Friday May 6, 2022
Hotel room space is limited. Book early to secure your reservation.
If you have any questions or issues making reservations, email the Westin Bayshore at bayshoregroup.reservations@westinhotels.com
Silver Sponsor:
CBV Institute is proud to #standupforukraine. We are saddened by the horrendous tragedies endured by the Ukrainian people, and join citizens around the world to condemn Russia's invasion of Ukraine. This year, CBV Institute will be directing our charitable giving in full to the Ukraine humanitarian relief effort by making a donation to Doctors Without Borders/Médecins Sans Frontières (MSF) Canada. Slava Ukraini.

Congress Organizing Committee
Core Valuation Sub-Committee Members
Joanne Liang – BDO Canada – Toronto
Michael Sileika – MNP LLP – Vancouver
Susie Foley – KPMG LLP – Vancouver
Lauren Bermack – PwC – Toronto
Richard Crosson – Crosson Valuation Inc. – Vancouver
Deals Sub-Committee Members
Erica McGuinness – Sequeira Partners Inc. – Vancouver
Jennifer Samarco – OMERS Infrastructure Management Inc. – Toronto
Amanda Vella – ATB Financial – Edmonton
Michael Rudanycz – Sun Life Capital Management – Toronto
Doug Ryder – Questra Corporate Finance – Vancouver
Litigation Sub-Committee Members
Lucas Terpkosh – Blair Mackay Mynett Valuations Inc. – Vancouver
Katie Gosnell – Kroll – Toronto
Matthew Krofchick – Krofchick Valuations – Toronto
Errol Soriano – KSV Soriano – Toronto
Paul McEwen – McEwen Valuation & Forensic – Vancouver
Terence Crohn – Ernst & Young – Calgary
Your web browser is outdated. For the best possible site experience, we encourage you to switch your browser to Microsoft Edge, Google Chrome or Firefox.