Fiera Capital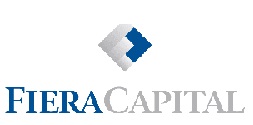 With approximately CAD 156.7 billion in assets under management as of June 30, 2022, Fiera Capital, an independent firm, is one of Canada's leading investment managers. We deliver customized multi-asset solutions across public and private market asset classes to institutional, financial intermediary and private wealth clients across North America, Europe and key markets in Asia. We strive to be at the forefront of investment-management science, and we are passionate about creating sustainable wealth for clients. Fiera Capital is recognized for our talented people. Our teams collaborate and seek to draw on the global industry's most innovative and diverse offerings to craft strategies that meet the needs of any client, anywhere they are located.
Why join Fiera Capital:
Inclusive workplace and diverse background of employees
Growth and development opportunities
Entrepreneurial industry-leading company with a purposeful mission
Flexible work arrangements, competitive compensation and benefits
Collaborative approach, innovative and culture of integrity
Ambitious organization who strives for excellence
What we are looking for
Fiera is looking for a Valuation Specialist who is passionate not only about asset valuation but is also capable of taking ownership of the full process that includes various analytics of private alternative investments. The role is aimed at a self-starter who can work in a fast-paced environment under tight deadlines with a high level of attention to detail. Must be innovative and flexible in responding to a rapidly changing environment.
The Valuation Specialist will have the primary responsibility to the pricing and valuation of all private investments across Fiera's investments. The ideal candidate will have a proven expertise in the valuations and a recognized knowledge in different capital events of private market investments. Additionally, the candidate will have strong competency in communication with different audiences.
The Global Data Management Team is responsible for the quality of data utilized across all of Fiera's businesses. Data domains include but not limited to security master, pricing, and corporate actions.
Your responsibilities:
Responsible of pricing of all private market investments
Ensure timely and accurate valuation of assets under management
Review appropriate treatment of various capital events as it relates to pricing
Liaise with both internal and external partners to ensure timely valuation
Responsible for data quality and for ensuring high business confidence in the data
Collect and ensure receipt of prices from various general partners of private market securities
Review and validate daily key quality control reports in support of pricing using various tools and applications
Develop and maintain controls to ensure all assets are valued correctly in the system
Continuously evaluate, identify, and recommend best practices and controls that will increase process efficiency and mitigate financial and operational risks
Ownership of the controls and auditing pertaining to pricing
Train, mentor and develop your team as well as your colleagues on pricing and valuation analysis by using a supportive and collaborative approach
Innovation & Tooling: Create innovative solutions:
Identify opportunities to improve processes and procedures toward industry best practices
Participate and take ownership of various projects to enhance risk controls and reporting
Develop close relationships with the different business segments to foster the integration from front to back offices
Must have requirements to be successful in this role:
Bachelor's degree in Finance, Commerce or related field
Master's degree in finance, financial engineering, actuary or a related field an advantage
Professional designation in finance (CBV, PRM, FRM, CFA or CAIA) an advantage
4-5 years of relevant experience
Proven knowledge in pricing of private market investments
Strong competency with capital events as it relates to the effect on pricing
Exceptional organizational & time management skills, be able to prioritize, make decision with ambiguity and be able to handle multiple tasks simultaneously
Programming skills: SQL, PYTHON, C++, C#, R, MATLAB, SAS or related a bonus
For positions available in Quebec that require fluency in French and English, please note that bilingualism is required due to our global offices and clients.
Fiera Capital subscribes to the principle of employment equity. Our staff is our most valuable asset and our goal is to create an inclusive and equitable environment where everyone can reach their true potential.
We are an Equal Opportunity Employer and do not discriminate against any employee or applicant for employment because of race, color, sex, age, national origin, religion, sexual orientation, gender identity, status as a veteran, and basis of disability, genetic information, or any other federal, state or local protected class. Fiera Capital will not tolerate any form of discrimination or harassment.
All staffing decisions, including hiring and promotion decisions, will be based on merit, skills, performance and business needs. We are pleased to receive applications from qualified individuals from a variety of backgrounds. Job applicants who are individually selected for an interview will be notified that accommodations are available upon request. If a selected participant requests accommodation, Fiera Capital shall consult with the applicant and provide, or arrange for the provision of, a suitable accommodation in a manner that takes into account the applicant's accessibility needs due to disability.
We thank all applicants for their interest in a career with Fiera Capital. We will only communicate with those selected for an interview.
Please stay vigilant and never share personal or confidential information during this hiring process unless it is through Mintz Global Screening, the secured platform we use to exchange such information. If in doubt, or if you think you have been a victim of fraudulent manoeuvres during your hiring process, please contact us.
The well-being and safety of our colleagues, clients and of the larger community are a priority for Fiera Capital and its affiliates. As such, all employees and service providers whose role or services, as applicable, require them to be physically present at the offices of Fiera Capital or its affiliates are required to be fully vaccinated and to provide proof of same (where recommended by Public Health Institutions), unless they have been granted reasonable accommodation based on documented medical or religious grounds, or as otherwise required by applicable law. Should an individual demonstrate that the vaccine cannot be administered due to medical or religious grounds or as otherwise required by applicable law, Fiera Capital and its affiliates will assess on a case-by-case basis, whether reasonable accommodation can be provided.
Please note that job title indicated in job postings may differ from internal job titles. Accordingly, offers of employment may not reflect job titles indicated in job postings.