BDC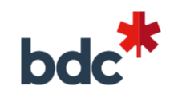 POSITION OVERVIEW
The Valuation Specialist is responsible for the fair value of the BDC Capital investment portfolio of equity and debt investments for the purpose of financial reporting. They will support several different sectors serviced by BDC Capital: Cleantech, Growth Equity, Venture Capital, and Intellectual Property financing.
CHALLENGES TO BE MET
Lead and complete the mark to market fair value exercise with internal clients and auditors to ensure that adequate information is provided on a timely basis and perform validation of the accuracy in accordance with the BDC valuation directive and the adequacy of documentation.
Perform valuation analysis, identify issues and provide recommendations to their manager.
Review, prepare and validate financial models.
Support presentation of fair value results to valuation committees and senior management.
Liaise with BDC Capital management as required to ensure timely, useful and consistent financial reporting and provide value-added services.
Perform ad-hoc analyses of the portfolio and industry trends.
Provide a value-added service to the investment teams.
WHAT WE ARE LOOKING FOR
Typical Background
3 to 5 years of experience in a role involving equity valuation
Consideration given to experience in accounting, structured thinking, financial analysis, and technical expertise
These profiles are likely to come from, but are not limited to:

CBV Roles, valuation expert role, consultation
Finance roles: accounting firms, venture capital, private equity, investment banking
Operator roles: technology start-up, industry-leading corporation, industry specialist with experience in quantitative pricing or valuation methods

Bachelor's degree in Commerce (Accounting or Finance)
Professional accounting designation (CPA)
Other professional designations (CFA, CBV)
Audit experience, an asset
Skills, knowledge and competencies
Strong valuation, financial, accounting and analytical skills
Strong knowledge of the Growth Capital and Private Equity industry
Strong skills in Excel, particularly in building financial models that include sensitivity analysis and scenario modeling, as well as performing data analysis. Any other analytic tools and techniques are an asset
Experience with market data tools, Capital IQ, Pitchbook
Knowledge of the Cleantech investment industry, carbon credit markets and climate change reduction
Good ability to problem-solve using structured thinking and communication techniques
Proven attention to detail with a desire for accuracy
Good ability to use other MS suite applications efficiently, mainly Word and PowerPoint
Ability to intervene pertinently in the context of a presentation to executive audiences
Operational knowledge of any technical industry is an asset
Ability to grasp new concepts quickly
Initiative & creativity
Strong teamwork skills and ability to foster relationships with internal customers
Excellent time management and organizational skills
Bilingualism in French and English
Behavioral Traits
Supportive, helpful attitude – willingness to proactively identify gaps and jump in to fill them
Motivation and ability to do focused, independent work, in the context of a team
Ability to work collaboratively and build positive relationships with stakeholders
Continuous learning attitude, with maturity to take feedback constructively
Openness to share knowledge and advice with less experienced colleagues
Comfort working in a fast-paced environment, where objectives must be met within tight deadlines