Valu8er Inc.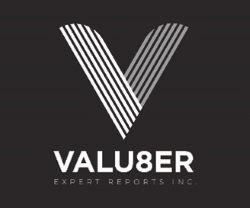 ($120K TO $180K + PROFIT SHARING)
ABOUT VALU8ER
About Valu8er Expert Reports Inc. ("VERI")
Valu8er Expert Reports Inc. ("VERI") is a first-of-its-kind and one-of-a-kind global technology elevating the preparation and execution of business valuation reports globally to the highest level of standards, presentation, preparation, management, and execution.
Valu8er speeds up report preparation by 20x to 30x, all while without word and excel. Valu8er is also a working paper and employee management software.
Valu8er is not an Automated Valuation Model (AVM), which are common in real estate and car pricing, but rather, a complex, artificial intelligence software that automatically produces verbiage, language, economic data and analysis, relative risk analysis impacting multiples, automatic tax calculations and so much more.
PPA & GOODWILL IMPAIRMENT EXPERT
VERI is looking to hire for an experienced Purchase Price Allocation (PPA) and Goodwill Impairment Expert who has Big 4 experience and has performed at least 200 PPA and/or Goodwill Impairment engagements to date, including across various industries and countries.
The ideal candidate must have experience in completing such engagements from start to finish. He or she will work closely with fellow Valu8er Associate, Romir Anand, CBV, with both individuals assisting and providing the founder of Valu8er, Mr. Rim Grewal, with the necessary theory and logic to assist him in to creating a flexible software application that will be used to automate PPA Reports & Goodwill Impairment Testing Report, Schedule and Appendix Production.
The ideal candidate will also be asked to study global valuation statistical and data methodologies from (and not limited to) family offices, venture capital funds, private equity firms, portfolio management, M&A shops and etc. The focus will be on creating and modeling the best valuation statistical and data techniques around the world, in particular those that are least influenced by human bias. Mr. Grewal will provide guidance and theory, and test such models before including them on the Valu8er application.
The ideal candidate must also have extensive experience with valuing identifiable intangible assets (e.g. patents, trademarks, branding, etc.), in addition to being a 10 out of 10 in Microsoft Excel (beyond V-Lookups, Pivot Tables, Modelling, Conditional Statements, Scenario Analysis and so forth). In your application, please provide details of your skill sets beyond those listed.
Lastly, the candidate must have a deep passion for technology and have a strong interest in Valu8er.
If interested, please apply directly to Rim Grewal at rim@valu8er.com
In addition to providing your CV and references, please provide details of the following:
1. Why you are applying?
2. Why you believe you are a good fit for Valu8er?
3. What about Valu8er excites you?
4. Details of your excel skill set (beyond v-lookups, pivot tables, modelling, conditional statements and scenario analysis)
Compensation will be determined based on fit. Range is $120k to $180k per annum including bonus. In addition, the candidate will receive 1.5% of global revenues generated from the PPA and Goodwill Impairment service line from 2025 to 2027, as long as the candidate remains employed.
Completely flexible lifestyle, no timesheets, and 6 to 8 weeks of vacation time based on experience.