Capital Power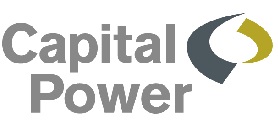 A little about Capital Power
Capital Power (TSX: CPX) is dedicated to powering a sustainable future for people and planet. Headquartered in Edmonton, Alberta, we're a growth oriented North American power producer that creates innovative electricity solutions to electrify the world reliably and affordably while protecting the planet for future generations. We're passionate about our employees and place their entire wellbeing at the center of our people strategy. We are proud to foster a culture that values diversity, equity, and inclusion; recognizing this is paramount to help grow our company and reach our net carbon neutral by 2050 goal. We're proud to foster an inclusive environment where employees are empowered to be their best, make meaningful contributions and go home safe every day.
Your Opportunity
One Permanent Full Time Position.
Do you enjoy a fast-paced environment, where learning and career growth are encouraged and supported?
We are seeking a motivated professional who has an analytical approach and methodical thinking to join our team!
The Manager, Corporate Finance is accountable for the performance of tasks within the corporate finance and treasury group. This includes both ensuring capital transactions are completed effectively, both securities and debt compliance requirements are met, participate in the maintenance of corporate credit ratings, supporting various strategic growth initiatives, and achieving the required outcomes within the required timelines.
You will contribute to our team by:
Assisting with all financings on an as needed basis to ensure liquidity and flexibility, including coordination of activities of external parties including external legal counsel, auditors, and lenders.
Preparing rating agency presentations and supporting data, reviewing/reconciling rating agency reports, articles and press releases, coordinating and providing appropriate feedback.
Performing due diligence with respect to potential development projects and acquisitions/divestitures.
Preparing, coordinating and reviewing, as required, all Treasury documents required for compliance with securities regulations, board materials and special projects accurately and on a timely basis.
Identifying and providing advice on budget and long-term plan requirements related to Corporate Finance, such as financings, impact to credit metrics and covenants, and providing this information to the Director.
Leading cross functional projects by engaging other areas of expertise to work as an effective team, resolving issues, and getting assignments completed within tight deadlines.
Maintaining and developing relationships internally and externally, to obtain information required to complete work and provide recommendations outside of the group.
What you will bring to the role
Education:
University degree required, preferably B. Com, Finance, or Economics.
Education equivalency may be considered.
Professionals who have and are seeking a designation such as CFA are considered an asset.
Experience:
5 to 7 years of related experience.
Proficiency with Microsoft office, including Excel, PowerPoint and Word.
Strong understanding of capital markets, securities regulations, and financial statements.
Strong analytical and modelling skills.
Excellent verbal and written communication.
Able to work with people at all levels both internal and external.
Working Conditions:
Primarily office and hybrid work-from-home arrangements.
Some evening and weekend work within the hybrid arrangement and limited travelling are required in this position but communicated in advance.
Ability to handle multiple timelines in a deadline driven workplace is a key to success in this role.
Additional Details
This opportunity is open to both Calgary and Edmonton.
In order to be considered for this role you must be legally eligible to work in Canada.
Clearance of Credit check is required for this position.
The successful candidate for this position will undergo an education verification, reference checks and criminal record check.
We offer a highly flexible benefits and wellbeing program, comprehensive onboarding and training, and various development opportunities to support your success and personal growth.
How To Apply and Next Steps
Capital Power only accepts resumes via online application at www.capitalpower.com/careers. If you choose to submit your resume by any other means, we cannot guarantee that your application will be considered for vacancies.
Applicants with disabilities who require a reasonable accommodation to complete their application can request accessible formats, communication support, or other accessibility assistance by contacting careers@capitalpower.com
Capital Power is committed to providing a fair and transparent hiring process. We recognize and embrace the value of diversity and hire employees with the appropriate skills, experience and knowledge for each position.
Thank you for taking the time to apply and expressing interest in powering a sustainable future with Capital Power! We wish that we could personally respond to everyone who applies; however, it is our practice to contact only those individuals selected for interviews.