Troy Valuations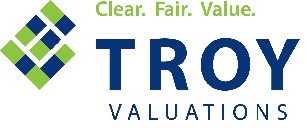 Troy Valuations provides expert opinion business valuation reports for divorce settlements, litigation and tax planning. We help business owners buy businesses. We help business owners sell businesses.
We offer business valuation, fairness opinions, financial advisory services, and strategic planning.
Our goal is to help business owners reduce their risk in transactions.
We deliver unbiased evidence based conclusions. We dig deep to understand each unique business. We build open honest relationships through relevant communication.
Find out more about us here: https://troyvalue.com/
Job Description
Are you passionate about valuations? Do you want to help business owners make informed decisions?
Troy Valuations is looking for a valuator to work valuation, litigation and financial advisory assignments. You will use your knowledge of valuations, financial statement analyses, businesses, accounting practices and economics to drive valuation conclusions.
Candidate Credentials
The successful candidate will have:
a Chartered Business Valuator (CBV) designation;
excellent communication skills, both written and verbal;
strong Microsoft Word and Microsoft Excel skills;
demonstrated expertise in analyzing financial statements as well as a knowledge of income tax;
relevant work experience in a litigation/business valuations role;
strict attention to detail and accuracy;
sound judgment regarding confidential and sensitive matters; and
an ability to work effectively independently and as part of a team.
The successful candidate will be someone who is:
highly analytical;
detail oriented;
self motivated; and
a problem solver with strong interpersonal and organizational skills.
What We Offer:
We offer the successful candidate:
Competitive base pay with performance bonuses;
Exposure to very interesting work opportunities;
Benefits package;
Mentorship; and
Professional growth and development with excellent career advancement opportunities.
How to Apply
Please submit your professional resume, in confidence, to Caroline Troy at ctroy@troyvalue.com
All resume information is received in confidence. While we appreciate all applications received, we can only contact directly those candidates selected for an interview.