September 18, 2020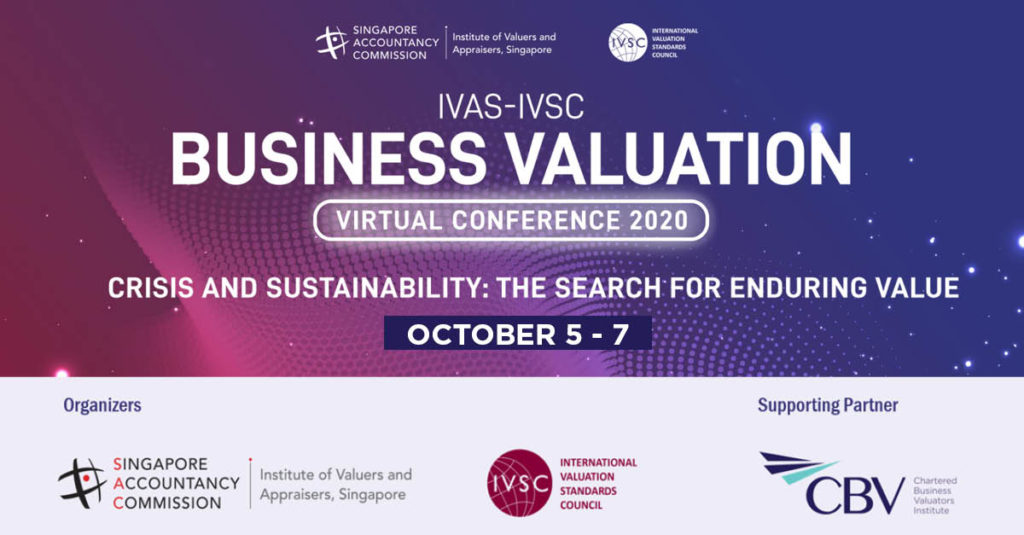 CBV Institute is proud to be a Supporting Partner of Asia Pacific's leading business valuation conference this year.
The IVAS-IVSC Business Valuation Conference is back for 2020 with the pressing theme for our times, Crisis and Sustainability: The Search for Enduring Value. This highly recommended virtual conference will focus on strategies to sustain a competitive edge in today's era of global crisis. As the COVID-19 pandemic unfolds around the world, experts forecast it may be years before pandemic impacts completely recede. In many instances, societies and industries will have permanently changed as a result. A strong line-up of industry experts will be at the conference to deliberate on how developments in business valuation are impacting the economy and how the business community can position itself for growth as the tide turns. Topics of discussion include the valuation of data, ESG factors and intangible assets.
Of note, Christine Sawchuk, Director of Education and Accreditation for CBV Institute, is joining a top discussion panel of global experts to explore the topic "How Will this Crisis Affect the Business Valuation Community Around the World?" This discussion will reflect on what prior times of crisis have taught us about what might come next for the valuation profession. It will dive into the possible ways the profession may morph and grow over the next few years. Not to be missed!
We are pleased to offer a limited number of complimentary conference seats here, at no charge for registration. Reserve now to secure your spot. Registration is open to all.
Please note: International sessions are outside business hours in EDT time zone.
Your web browser is outdated. For the best possible site experience, we encourage you to switch your browser to Microsoft Edge, Google Chrome or Firefox.